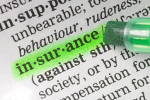 Here are some great definitions.
Actual Cash Value - Cost of replacing damaged or destroyed property with comparable new property, minus depreciation and obsolescence. For example, a 10-year-old sofa will not be replaced at current full value because of a decade of depreciation.
Assets - Assets refer to "all the available properties of every kind or possession of an insurance company that might be used to pay its debts." There are three classifications of assets: invested assets, all other assets, and total admitted assets. Invested assets refer to things such as bonds, stocks, cash and income-producing real estate. All other assets refer to nonincome producing possessions such as the building the company occupies, office furniture, and debts owed, usually in the form of deferred and unpaid premiums. Total admitted assets refer to everything a company owns. All other plus invested assets equals total admitted assets. By law, some states don't permit insurance companies to claim certain goods and possessions, such as deferred and unpaid premiums, in the all other assets category, declaring them "nonadmissable."
Automobile Liability Insurance - Coverage if an insured is legally liable for bodily injury or property damage caused by an automobile.
Casualty - Liability or loss resulting from an accident.
Casualty Insurance - That type of insurance that is primarily concerned with losses caused by injuries to persons and legal liability imposed upon the insured for such injury or for damage to property of others. It also includes such diverse forms as plate glass, insurance against crime, such as robbery, burglary and forgery, boiler and machinery insurance and Aviation insurance. Many casualty companies also write surety business.
Claim - A demand made by the insured, or the insured's beneficiary, for payment of the benefits as provided by the policy.
Coinsurance - In property insurance, requires the policyholder to carry insurance equal to a specified percentage of the value of property to receive full payment on a loss. For health insurance, it is a percentage of each claim above the deductible paid by the policyholder. For a 20% health insurance coinsurance clause, the policyholder pays for the deductible plus 20% of his covered losses. After paying 80% of losses up to a specified ceiling, the insurer starts paying 100% of losses.
Collision Insurance - Covers physical damage to the insured's automobile (other than that covered under comprehensive insurance) resulting from contact with another inanimate object.
Comprehensive Insurance - Auto insurance coverage providing protection in the event of physical damage (other than collision) or theft of the insured car. For example, fire damage or a cracked windshield would be covered under the comprehensive section
Deductible - Amount of loss that the insured pays before the insurance kicks in.
Exclusions - Items or conditions that are not covered by the general insurance contract
General Liability Insurance -Insurance designed to protect business owners and operators from a wide variety of liability exposures. Exposures could include liability arising from accidents resulting from the insured's premises or operations, products sold by the insured, operations completed by the insured, and contractual liability.
Liability - Broadly, any legally enforceable obligation. The term is most commonly used in a pecuniary sense.
Liability Insurance - Insurance that pays and renders service on behalf of an insured for loss arising out of his responsibility, due to negligence, to others imposed by law or assumed by contract.
Named Perils - Perils specifically covered on insured property.
Occurrence - An event that results in an insured loss. In some lines of business, such as liability, an occurrence is distinguished from accident in that the loss doesn't have to be sudden and fortuitous and can result from continuous or repeated exposure which results in bodily injury or property damage neither expected not intended by the insured.
Peril - The cause of a possible loss
Personal Injury Protection - Pays basic expenses for an insured and his or her family in states with no-fault auto insurance. No-fault laws generally require drivers to carry both liability insurance and personal injury protection coverage to pay for basic needs of the insured, such as medical expenses, in the event of an accident.
Personal Lines - Insurance for individuals and families, such as private-passenger auto and homeowners insurance.
Replacement Cost - The dollar amount needed to replace damaged personal property or dwelling property without deducting for depreciation but limited by the maximum dollar amount shown on the declarations page of the policy
Subrogation - The right of an insurer who has taken over another's loss also to take over the other person's right to pursue remedies against a third party.
Umbrella Policy - Coverage for losses above the limit of an underlying policy or policies such as homeowners and auto insurance. While it applies to losses over the dollar amount in the underlying policies, terms of coverage are sometimes broader than those of underlying policies.
Uninsured Motorist Coverage - Endorsement to a personal automobile policy that covers an insured collision with a driver who does not have liability insurance.